Primarily hired to work on the website, social graphics, print banners, advertisements, mockups for sponsor pitches, and beyond for DragCon, I have also fulfilled design tasks on an as-needed basis for World of Wonder related key art, merch designs, digital signage, and corporate site updates.
Marketed properties include:
Canada's Drag Race vs The World
Drag Race Sverige​​​​​​​
RuPaul's Drag Race All Stars
RuPaul's Drag Race Down Under
How's Your Head, Queen?
​​​​​​​
Mon
é
t's Herstory X Change
The Things That Made Me Queer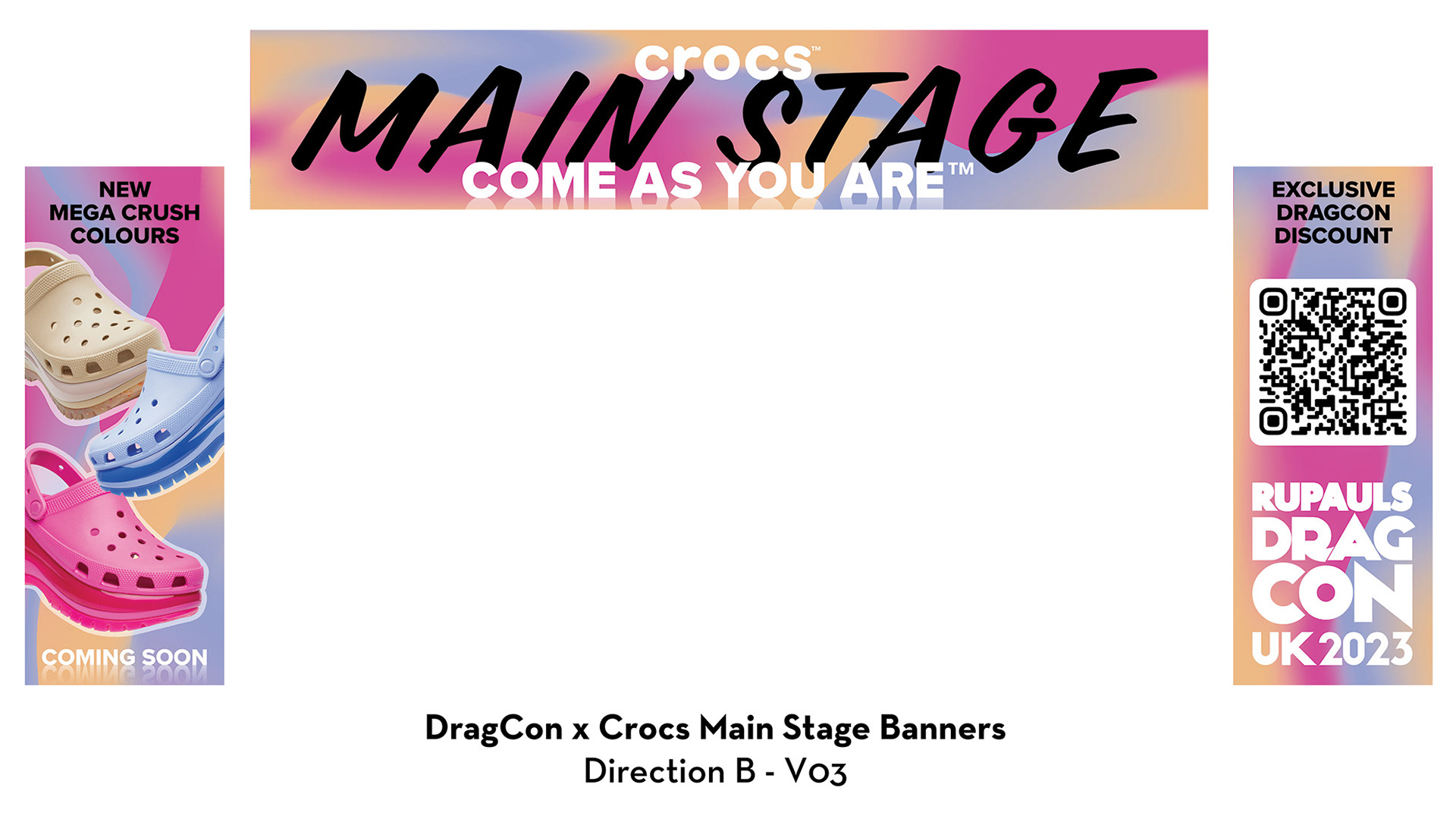 DragCon UK 2023 - Main Stage Branding
This collaboration began as a partnership with Crocs, whcih posed a unique challenge of balancing their branding with DragCon's somewhat oppositional color trends. While some of Crocs' promotional materials for the Mega Crush line feature bright, playful, cartoonish graphics, they were made to compliment the bold black and white options initially available. With the new colors included in the promotion, the final design came down to using more saturated versions of the new Pantones in order to compliment and uplift the product promotion, rather than overpowering it. 
Crocs rescinded their Main Stage sponsorship a few weeks prior to the event. I was tasked with drafting urgent alternates while World of Wonder was technically on their December holiday break in order to re-print with the lowest rush fees. So, I repurposed mostly vector-based art that I had already designed for other large prints, reducing the risk of printing errors and eliminating the time that would be eaten up by new style approvals.
DragCon UK 2023 - WOW Merch & Booth Designs
For DragCon merchandise, we aimed for attractive apparel that lent itself to year-round wear as well as collector-aimed pieces. The "RuPeter" enamel pins sell well, so we focused on creating a matching set around the classic silhouette, as the UK edition was one of the earliest. In particular, I went through a number of iterations on designs for the display tote in addition to considering an "ita bag" design, and we ultimately landed on a simpler graphic that would allow the pins themselves to be the focus. The UK edition is a recolor of my all-pink design for WOW's Black Friday 2022 drop. For the booth itself, I recreated the shelf design for the LA 2022 show, which broke up the brightly colored branding with a subtle texture, and developed graphic compliments for the fresh Season 15 key art. As Season 15 was premiering that weekend, WOW management wanted the branding to be so bold and repeated that an attendee could see it from anywhere on the show floor. 
DragCon UK 2023 Social Graphics - New visual concepts that encouraged engagement and highlighted improvements from previous events directly correlated with tripled weekly ticket sales.
DragCon LA 2022 Badge Excerpts - Badge buildout included developing a Publisher system that could pull Queen names from a spreadsheet in order to automatically generate hundreds of custom name badges.
DragCon LA 2022 Social Graphics - The vast majority of graphics were developed as 4x5 and 9x16 ratios, the ideal sizes for the feed and stories on DragCon's primary promotional social media app, Instagram.
Drag Race France Enamel Pin - Developed from scratch through many rounds of iteration to compliment the existing line of Drag Race international franchise enamel pins.
Sketchy Queens Key Art Development - Concept development required experimentation with extremely chaotic and simplistic designs in order to portray the nature of the sketch comedy show. Design requests frequently referenced VHS tapes and film.